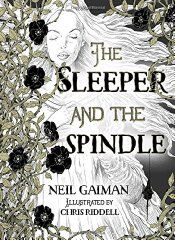 The Sleeper and the Spindle
by
Neil Gaiman
, illustrated by
Chris Riddell
Published by
Bloomsbury Childrens
, October 23, 2014
72 Pages • ISBN 978-1408859643 • Hardcover

Amazon
•
Goodreads
•
LibraryThing
To purchase any of the books in this post and help me buy more books, click the links above!
Book description:
A thrillingly reimagined fairy tale from the truly magical combination of author Neil Gaiman and illustrator Chris Riddell - weaving together a sort-of Snow White and an almost Sleeping Beauty with a thread of dark magic, which will hold readers spellbound from start to finish.

On the eve of her wedding, a young queen sets out to rescue a princess from an enchantment. She casts aside her fine wedding clothes, takes her chain mail and her sword and follows her brave dwarf retainers into the tunnels under the mountain towards the sleeping kingdom. This queen will decide her own future - and the princess who needs rescuing is not quite what she seems. Twisting together the familiar and the new, this perfectly delicious, captivating and darkly funny tale shows its creators at the peak of their talents.

Lavishly produced, packed with glorious Chris Riddell illustrations enhanced with metallic ink, this is a spectacular and magical gift.
Who doesn't love a new, delicious Neil Gaiman fairy tale retelling? Add to that story new and equally delicious Chris Riddell illustrations and you have the recipe for an almost instant classic, and neither disappoint in this fairy tale remix. Leave it to Gaiman to take one fairy tale that we're familiar with (in this case, a Snow White a few steps away from any version we've seen before) and mix it with another (a Sleeping Beauty we only think we know), to come up with something that we couldn't have seen coming.
On the eve of her wedding, a trio of dwarfs tell their young queen tales they've heard in their travels of an enchanted princess who has slept for seventy or more years in a neighboring kingdom. What alarms the dwarfs is that the sleeping enchantment seems to be growing, reaching farther and farther out from the enchanted kingdom each day. Taking it upon herself to rescue not only her kingdom from the potential sleeping enchantment but to also free the young princess herself, the queen postpones her wedding, dons her armor and sword, and sets forth with her dwarfs in search of the sleeping princess.
While we the reader think we know where the story is going, Gaiman takes our hand and leads us down an entirely different road, creating such a magical twist in the story that he creates his own unique and powerful fairy tale. Riddell's illustrations are fantastic, accenting the story perfectly, while being perfectly accented in golden metallic ink. In fact, this is probably one of the more beautifully presented volumes that I've picked up in some time, from the velum, transparent cover right down to the font choice. Clearly, there was significant effort put into giving Gaiman's story and Riddell's art the appropriate packaging.
While not available yet in the US, I'd recommend picking up this volume if you're a fan of Gaiman, Riddell, fairy tales, or any combination of the above. Quite frankly, I don't know that any US edition will match the beauty of this UK edition. I know that generally Riddell's illustrations only accompany Gaiman's UK editions, and while I'm sure the US illustrator would do just as admirable a job (I would imagine Skottie Young, as has been the case lately), I'd hate for anyone to miss out on this particular edition, just in case. Do yourself a favor; it's completely worth the money to track down a copy for yourself.