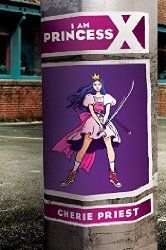 I am Princess X
by
Cherie Priest
, illustrated by
Kali Ciesemier
Published by
Arthur A. Levine Books
, May 26, 2015
240 Pages • ISBN 978-0545620857 • Hardcover
I picked up an ARC of this book at #ALAMW15

Schuler Books
•
Barnes & Noble
•
Amazon
Goodreads
•
LibraryThing
To purchase any of the books in this post and help me buy more books, click the links above!
Book description:
Best friends, big fans, a mysterious webcomic, and a long-lost girl collide in this riveting novel, perfect for fans of both Cory Doctorow and Sarah Dessen, & illustrated throughout with comics.

Once upon a time, two best friends created a princess together. Libby drew the pictures, May wrote the tales, and their heroine, Princess X, slayed all the dragons and scaled all the mountains their imaginations could conjure.

Once upon a few years later, Libby was in the car with her mom, driving across the Ballard Bridge on a rainy night. When the car went over the side, Libby passed away, and Princess X died with her.

Once upon a now: May is sixteen and lonely, wandering the streets of Seattle, when she sees a sticker slapped in a corner window.

Princess X?

When May looks around, she sees the Princess everywhere: Stickers. Patches. Graffiti. There's an entire underground culture, focused around a webcomic at IAmPrincessX.com. The more May explores the webcomic, the more she sees disturbing similarities between Libby's story and Princess X online. And that means that only one person could have started this phenomenon - her best friend, Libby, who lives.
Libby and May, best friends in school, created Princess X. They wrote and drew her adventures, creating a world all their own. Yet, when Libby dies in a car accident with her mom, Princess X and all of her adventures are lost to May, who now has to find her way in life without her best friend. Several years go by, and one day May is wandering Seattle when she discovers a Princess X sticker on a window. Slowly, she discovers that everywhere she looks now, there is Princess X. She soon finds out that there is a webcomic at IAmPrincessX.com, and there is an entire mystery surrounding who is behind its creation. May thinks she knows, but that would have to mean that her best friend isn't actually dead after all. With the help of Trick, the computer hacker from upstairs, May goes on a search to discover the truth behind IAmPrincessX.com and the truth behind Libby's death.
I was talking with a friend about the book and asked me how I would describe it, and I found I couldn't really categorize it. I've been thinking long and hard about this, and I think I'd have to call it an urban mystery. It definitely has a fantasy feeling to it with the inclusion of the webcomic in the story, but that's not really the best way to describe it to someone.
This is Cherie Priest's first jaunt into YA, and it is actually quite the satisfying adventure. While there are aspects of the story that seem a little farfetched to me (I can't really go into them, as they all relate to parts of the mystery), everything comes together nicely in the end. The pacing of the book also felt a bit rushed to me, as sometimes May and Trick jumped to conclusions a little too quickly and accurately, but it kept the story moving along and there really is no part of the book that drags. The inclusion of pages from the webcomic is a great touch given that so much of what goes on in the books stems from what is happening in the webcomic. I'm actually hoping that Priest and Ciesmier continue the Princess' adventures online at some point. I'm hoping the final copy is printed in the pinkish-purple ink that the ARC is; a clever connection to the color of Princess X's dress.
The one thing that made me most satisfied with
I am Princess X
is the lack of an immediate love connection between May and Trick. Too often in YA, I feel like the girl falls for the boy for all the wrong reasons (sometimes for the right reasons), but it so often feels forced, just to give that romantic tension in the story. It is refreshing to read a YA where there is no tension between the the girl and the boy, because I just don't think it would have worked at all in this book. This story is truly all about May and Libby, and if Priest had created that romantic tension in the story between May and Trick, then that would have absolutely felt forced to me. For this reason alone, I want to give Cherie Priest a high-five over this book.
You can pick up a copy of
I am Princess X
by Cherie Priest on May 26, 2015. from
Arthur A. Levine Books
.