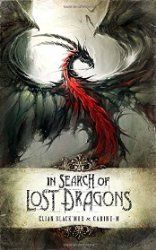 In Search of Lost Dragons
by
Elian Black'Mor
,
Carine-M
, & Jezequel
Published by
Dynamite Entertainment
, February 3, 2015
224 Pages • ISBN 978-1606904640 • Hardcover

Schuler Books
•
Barnes & Noble
•
Amazon
Goodreads
•
LibraryThing
To purchase any of the books in this post and help me buy more books, click the links above!
Book description:
On the trail of dragons forgotten, an intrepid illustrator and reporter journeys from Europe through the Middle East and finally to Saigon in search of the dark caverns and mountaintop perches where the elusive winged serpents dwell. With the gift of seeing the invisible, our explorer friend records each encounter in a journal of gorgeous, fully painted artwork, capturing every majestic and fearsome visual detail of the scaly behemoths, and accompanies his findings with snippets of local lore as evidence that these hidden beasts continue to shape the world in ways we may never expect!
In Search of Lost Dragons
is a travel journal kept by a reporter as he travels the world in search of dragons. The journal entries are very disjointed, to the point where I thought I was missing pages in my volume, but in the end, there is something of a cohesive story being told throughout as the journalist continues his search for dragons, discovering long lost nomadic tribes and long hidden cities in the process; still, I'd have to say that the "story telling" is rambling to say the best. The art in the book, however, is gorgeous. Presented as photographs and sketches of the various species of dragons discovered on the journey, the art in this book is stunning. Just take a look at the book trailer above to see what I'm talking about. I didn't know a thing about this book, and ordered based on what I saw in that trailer, and I'm so glad that I did. The dragons are simply gorgeous.
So, what the story lacks in cohesiveness, the art absolutely makes up for it detail. This would be a great addition to a fantasy library!