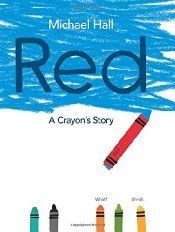 Red: A Crayon's Story
by Michael Hall
Published by
Greenwillow Books
, February 3, 2015
40 Pages • ISBN 978-0062252074 • Hardcover
I picked up a copy of this book at #ALAMW15

Schuler Books
•
Barnes & Noble
•
Amazon
Goodreads
•
LibraryThing
To purchase any of the books in this post and help me buy more books, click the links above!
Book description:
A blue crayon mistakenly labeled as "red" suffers an identity crisis in the new picture book by the New York Times–bestselling creator of My Heart Is Like a Zoo and It's an Orange Aardvark! Funny, insightful, and colorful, Red: A Crayon's Story, by Michael Hall, is about being true to your inner self and following your own path despite obstacles that may come your way. Red will appeal to fans of Lois Ehlert, Eric Carle, and The Day the Crayons Quit, and makes a great gift for readers of any age!

Red has a bright red label, but he is, in fact, blue. His teacher tries to help him be red (let's draw strawberries!), his mother tries to help him be red by sending him out on a playdate with a yellow classmate (go draw a nice orange!), and the scissors try to help him be red by snipping his label so that he has room to breathe. But Red is miserable. He just can't be red, no matter how hard he tries! Finally, a brand-new friend offers a brand-new perspective, and Red discovers what readers have known all along. He's blue! This funny, heartwarming, colorful picture book about finding the courage to be true to your inner self can be read on multiple levels, and it offers something for everyone!
A blue crayon, mistakenly labeled red, has a hard time of things as he is constantly bombarded by others to be red: his teachers try to get Red to draw strawberries; Red's mother sends him on a playdate with a yellow crayon and tries to convince him to draw an orange with her; the scissors trim his label down, thinking maybe it's too tight. Yet no matter how hard he tries, Red simply cannot be anything other than what he is: blue. Finally, through a new friend who see's him for what he really is, Red finally accepts his blue self and learns to love himself despite the label that others think he should be following.
A charming, clever tale letting kids know that it's ok to be who you are, despite what others say, Michael Hall's
Red: A Crayon's Story
is a story that adults can enjoy just as much as kids will.