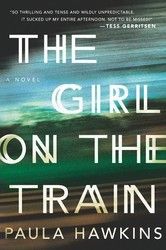 The Girl on the Train
by
Paula Hawkins
Published by
Riverhead Books
, January 13, 2015
336 Pages • ISBN 978-1594633669 • Hardcover
I received a finished copy of this book at #ALAMW15

Schuler Books
•
Barnes & Noble
•
Amazon
Goodreads
•
LibraryThing
To purchase any of the books in this post and help me buy more books, click the links above!
Book description:
A debut psychological thriller that will forever change the way you look at other people's lives.

Rachel takes the same commuter train every morning. Every day she rattles down the track, flashes past a stretch of cozy suburban homes, and stops at the signal that allows her to daily watch the same couple breakfasting on their deck. She's even started to feel like she knows them. "Jess and Jason," she calls them. Their life—as she sees it—is perfect. Not unlike the life she recently lost.

And then she sees something shocking. It's only a minute until the train moves on, but it's enough. Now everything's changed. Unable to keep it to herself, Rachel offers what she knows to the police, and becomes inextricably entwined in what happens next, as well as in the lives of everyone involved. Has she done more harm than good?

Compulsively readable, The Girl on the Train is an emotionally immersive, Hitchcockian thriller and an electrifying debut.
So, here's how I got a copy of
The Girl on the Train
: I was looking at a display of books at #ALAMW15, when somebody tapped me on the shoulder and handed me a copy of the book. I wasn't sure what was going on until I realized the line for the signing with Paula Hawkins had formed around me while I was looking at the display, and they thought I was in line for the book. Not knowing anything about
The Girl on the Train
, but figuring since I had the book in my hand and I was already (unintentionally) in line, I might was well get it signed, especially since everyone else in line seemed so excited about the book and getting to meet Paula Hawkins. It was only when I got back to my hotel that night that I discovered what the big deal was over
The Girl on the Train
. So, really not having a frame of reference on what to expect with the book, I can say that I'm pleasantly surprised by how much I enjoyed it!
I'm not going to talk much about what goes on in the book, because, you know,
spoilers
, but it a nutshell: Rachel takes the same train at the same time everyday. She's very lonely since her divorce, and this train goes past her old home where her ex-husband now lives with his current wife, so this in itself is a little weird. The other weird thing about Rachel taking this particular train is that she has developed a "relationship" with a couple that lives a couple of houses down from her ex; she doesn't know them at all, but she's created this entire story about their lives in her head, a life to her that is perfect. So, every day Rachel gets on the same train, goes by her exes house and the house of these people that Rachel has never met, and she pines for the life she had as well as the life she imagines these perfect strangers to have. That is until one day, the woman goes missing, and Rachel is certain that she knows something about the disappearance, if only she could remember what had happened the night the woman disappeared while Rachel was blind drunk in the same neighborhood, stalking her husband.
See, this is where the book was most interesting for me. The mystery of the disappearance and possible murder of the woman that Rachel is obsessing over really fell to the side for me as her true problems came to light: Rachel is an alcoholic and has some increasingly disturbing mental problems that grow and become very prominent in the story, to the point that Rachel truly becomes an unreliable narrator of the entire story, and it is
fascinating
. This is what really made the book for me. Paula Hawkins is a decent enough writer, but the overall mystery really doesn't hold up so well on its own; it's Hawkins handling of Rachel and her neuroses that really hooked me into the story. A friend and I were talking and wondered if Hawkins doesn't suffer from some of these problems herself, as she writes them almost too well into the story.
Hawkins and her writing ability is also something of a mystery to me. There are some definitely clunky bits in the book, but I'm not sure if these are intentional or not; they could almost be seen as idiosyncrasies of Rachel's view on the world, or they could just be genuinely clunky writing patterns. If its the former, Hawkins is a genius writer; if its the latter, I just figure its because she's a debut author. Either way, I do know that I'm definitely a fan of Paula Hawkins and will be picking up her next novel.
And a side note on the cover: I
love
this cover, simply because of the typography. I love the way that they created the type to look as if it's sliding by your view while in motion on a train. Such a great design element for the book.