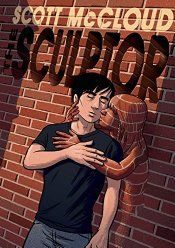 The Sculptor
by
Scott McCloud
Published by
First Second
, February 3, 2015
496 Pages • ISBN 978-1596435735 • Hardcover

Schuler Books
•
Barnes & Noble
•
Amazon
Goodreads
•
LibraryThing
To purchase any of the books in this post and help me buy more books, click the links above!
Book description:
David Smith is giving his life for his art—literally. Thanks to a deal with Death, the young sculptor gets his childhood wish: to sculpt anything he can imagine with his bare hands. But now that he only has 200 days to live, deciding what to create is harder than he thought, and discovering the love of his life at the 11th hour isn't making it any easier!

This is a story of desire taken to the edge of reason and beyond; of the frantic, clumsy dance steps of young love; and a gorgeous, street-level portrait of the world's greatest city. It's about the small, warm, human moments of everyday life… and the great surging forces that lie just under the surface. Scott McCloud wrote the book on how comics work; now he vaults into great fiction with a breathtaking, funny, and unforgettable new work.
The Sculptor
is the story of David Smith, who has given his life, literally, for his art. After agreeing to a deal with Death (David only has 200 days to live), he now has the ability to create anything he wants with his hands; any sculpture that he can think of, he can now create. Of course, now that he has a time limit on his life, he finds it even more difficult than ever to decide what to create. However, when he meets Meg at the last moment, he reconsiders everything and only then truly begins to live.
This is a beautifully told story. David's frustrations as an artist are real; Meg's mental problems are handled well; the story paces along well with the knowledge of the finite time David has left (Why 200 days? That's the only question I really have.) McCloud's artwork and coloring is very well constructed and makes for a lovingly and well-crafted story and book. Highly recommended.