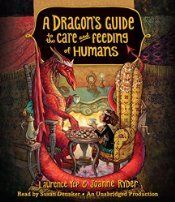 A Dragon's Guide to the Care and Feeding of Humans
by Laurence Yep & Joanne Ryder, illustrated by
Mary GrandPré
Published by
Crown Books for Young Readers
, March 10, 2105
160 Pages • ISBN 978-0385392280 • Hardcover
I picked up an ARC of this book at #ALAMW15

Schuler Books
•
Barnes & Noble
•
Amazon
Goodreads
•
LibraryThing
To purchase any of the books in this post and help me buy more books, click the links above!
Book description:
Fans of How to Train Your Dragon will love this whimsical tale, the first in a series, by a Newbery Honor winner, featuring charming illustrations and pet "training tips" in each chapter.

Crusty dragon Miss Drake has a new pet human, precocious Winnie. Oddly enough, Winnie seems to think Miss Drake is her pet — a ridiculous notion!

Unknown to most of its inhabitants, the City by the Bay is home to many mysterious and fantastic creatures, hidden beneath the parks, among the clouds, and even in plain sight. And Winnie wants to draw every new creature she encounters: the good, the bad, and the ugly. But Winnie's sketchbook is not what it seems. Somehow, her sketchlings have been set loose on the city streets! It will take Winnie and Miss Drake's combined efforts to put an end to the mayhem... before it's too late.

This refreshing debut collaboration by Laurence Yep, a two-time Newbery Honor winner and a Laura Ingalls Wilder Award winner, and Joanne Ryder features illustrations by Mary GrandPré.
What an unexpected surprise! I had picked up a copy of
A Dragon's Guide to the Care and Feeding of Humans
on a whim at #alamw15, having not one clue as to what it was about. Yesterday, I was looking for something to read, and picked this up just to check it out and ended up reading it in the one sitting. The story follows Miss Drake, a curmudgeonly dragon who has taken on a new "pet" in the form of Winnie, the grand-niece of her previous pet, Amelia (or Fluffy as Miss Drake liked to call her). Winnie is strong willed and very sure herself and at first Miss Drake finds this very discouraging and realizes she's going to have to be very assertive in training her new pet. (Of course, the question actually becomes, exactly
who
is the pet here?)
Miss Drake, on a shopping excursion for some new tea and biscuits, also buys Winnie a new sketchbook that may be more that it appears to be, and when Winnie starts to sketch all the marvelous, magical creatures she is discovering, the sketchbook releases a magic all its own and the sketches come to life! It is up to Miss Drake and Winnie to find the sketchlings before they are discovered by both the magical and nonmagical worlds.
Putting this all down,
A Dragon's Guide to the Care and Feeding of Humans
sounds like a typical middle grade adventure story, but what took me completely by surprise was that the story is just as much about love, loss, and the importance of family as it is about anything else. Amidst all the magic and missteps and adventures in the story is a growing underlying theme of the importance that both friends and family can have in a person's life, where friends become family and family become friends. The conclusion is one of the most touching endings to a book that I have read in a very long time, and made me think fondly of those that I have loved and lost in my life. The connections between Miss Drake and Amelie, Winnie and her father, and eventually Miss Drake and Winnie are made so incredibly real in such a short book. Laurence Yep and Joanne Ryder have crafted a beautiful and fun-filled story, and Marie GrandPré's accompanying illustrations are perfect. I would recommend this to anyone with or without a young person in their life; anyone will be able to enjoy this whimsical tale about the strength and love of families. Highly recommended.
A Dragon's Guide to the Care and Feeding of Humans
is published by
Crown Books for Young Readers
and will be available March 10, 2015.