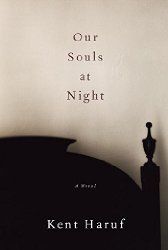 Our Souls at Night: A novel
by Kent Haruf
Published by
Knopf
, May 26, 2015
192 Pages • ISBN 978-1101875896 • Hardcover
I picked up an ARC of this book at #ALAMW15

Schuler Books
•
Barnes & Noble
•
Amazon
Goodreads
•
LibraryThing
To purchase any of the books in this post and help me buy more books, click the links above!
Book description:
A spare yet eloquent, bittersweet yet inspiring story of a man and a woman who, in advanced age, come together to wrestle with the events of their lives and their hopes for the imminent future.

In the familiar setting of Holt, Colorado, home to all of Kent Haruf's fiction, Addie Moore pays an unexpected visit to a neighbor, Louis Waters. Her husband died years ago, as did his wife, and in such a small town they naturally have long been aware of each other, if not exactly friends; in fact, Addie was quite fond of Louis's wife. His daughter, Holly, lives hours away in Colorado Springs; her son, Gene, even farther away in Grand Junction. What Addie has come to ask—since she and Louis have been living alone for so long in houses now empty of family, and the nights are so terribly lonely—is whether he might be willing to spend them with her, in her bed, so they can have someone to talk with.

Louis is surprised, even shocked, that she would've thought of him, though he soon is brave enough to try, impressed by the courage of her proposal. And so their lives now find a new rhythm and their conversations range freely, if sometimes haltingly, through their personal histories: his work as a high school English teacher; the loss of her teenage daughter, and the harm this did to her marriage as well as their son; his brief affair, as a young husband and father, which Addie had heard about; their youthful aspirations and middle-age disappointments and compromises; the joy both feel in at last being able to express the woof and weave of their experiences. This unusual arrangement, as Addie predicted, provokes local comment, and then the disapproval of their children, and their nightly pattern is further disrupted when her son, whose wife has departed for California, asks Addie to take in his six-year-old son, Jamie, for the summer while he tries to solve his various troubles.

Jamie is confused and hurt, of course, but gradually finds comfort in the company of his grandmother and her friend Louis, neither of whom has spent much time with kids in years but in turn learn how to all over again. Teaching the boy to play catch. Adopting a dog from the local shelter. A camping trip in the mountains, a trip to the county fair, simple pleasures that are a hallmark of Haruf's fiction. As are the things that jeopardize them, from the death of a mutual friend to family tensions that suddenly test Addie and Louis's ability to withstand them. And the subtle denouement then sweeps both of these amazing people forward—heartbreakingly, hearteningly into the unknown.
A beautiful, sparse story of a woman and a man who find companionship in their later lives through a fairly unconventional proposal: Addie Moore stops in to see Louis Waters one day wondering if he would like to come and sleep in her bed with her at night.
No, not sex. I'm not looking at it that way. I think I've lost any sexual impulse a long time ago. I'm talking about getting through the night. And lying warm in bed, companionably. Lying down in bed together and you staying the night. The night's are the worst. Don't you think?
She misses the closeness of her husband, who passed away several years ago, and would like someone to talk to at night. Louis' wife has passed as well, and while at first he is unsure exactly of how this will all play out, he agrees to sleep with her for one night, and then they would both see how they felt. If it was uncomfortable and neither wanted to do it again, they could walk away, no strings attached.
What they discover is a companionship and closeness that comes unexpectedly to them, while causing something of a scandal in their small town. People seem shocked by their decision, but Addie and Louis decide that they are of an age where what other people think is of no consequence to them anymore. That summer, Addie's grandson, Jamie, comes to live with her for the summer while his father (her son), organizes his own life. Jamie is confused by the change, but Addie and Louis rediscover their ability to take care of a young child again, and something of a family comes to exist. It isn't until tensions between Addie's son and Louis grow that anything can ruin what they have created for themselves.
This is a very fast read; Haruf wastes no time getting to the meat of the story. He takes what starts out as a very unconventional idea and reforms it into something that seems so natural that it isn't a wonder that more people don't make this a regular practice. My only complaint with his storytelling is making the book a bit too sparse; the lack of any quotations marks in the book makes for a somewhat confusing reading experience at times. Other than this one minuscule gripe, this is a beautifully told story, and one that will stick with you.
Our Souls at Night: A novel
by Kent Haruf will be available May 26, 2015, from
Knopf
.