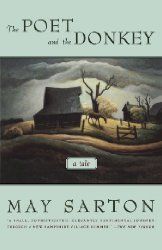 The Poet and the Donkey: A Tale
by May Sarton
Published by
W. W. Norton & Company
, September 17, 1996 (1969)
128 Pages • ISBN 978-0393315530 • Paperback

Schuler Books
•
Barnes & Noble
•
Amazon
Goodreads
•
LibraryThing
To purchase any of the books in this post and help me buy more books, click the links above!
Book description:
"A small, sophisticated, elegantly sentimental journey through a New Hampshire village summer. Our companions are an aging poet, who is sad because he can no longer write — he has lost the joy he used to have in simply being alive – and a young, mischievous female donkey, who is sad because she can't run and play — she has a touch of arthritis... There is a moral, of course, but any moral looks dull next to the simple happiness of the old poet and his long-eared muse." — The New Yorker
A charming and quick little book about a poet who has lost his muse and is no longer able to write, and the donkey he borrows from his neighbors, who, in time, becomes his missing muse. There isn't much to this story, which is refreshing; the book really does just follow the poet as he borrows the donkey and learns to navigate the language between the two until they both become just what the other needed. There's a moral, of course, but overall this is the perfect book if you need something to just make your afternoon that much better.