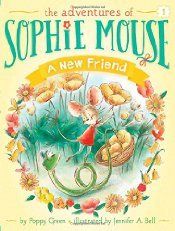 The Adventures of Sophie Mouse: A New Friend
by
Poppy Green
, illustrated by
Jennifer A. Bell
Published by
Little Simon
, January 20, 2015
128 Pages • ISBN 978-1481428323 • Paperback
I picked up an ARC of this book at #ALAMW15

Schuler Books
•
Barnes & Noble
•
Amazon
Goodreads
•
LibraryThing
To purchase any of the books in this post and help me buy more books, click the links above!
Book description:
In this first of a charming series about a little mouse and her forest friends, Sophie Mouse must convince her classmates—and herself—that a new student is nothing to fear. Even if he is a snake! Readers will delight in The Adventures of Sophie Mouse!

In the first book of The Adventures of Sophie Mouse, springtime has arrived at Silverlake Forest! The animals are coming out of their homes, buds are blooming on the trees, and the air smells of honeysuckles and tree bark. Sophie Mouse can't wait to go back to school after the long winter break.

Even better, there's a new student in class — Sophie loves meeting new animals! But the class gasps when Owen enters: he's a snake! No one is brave enough to sit near him, or play with Owen at recess, or even talk to him. Can Sophie help her friends understand that Owen's not scary after all?

With easy-to-read language and illustrations on almost every page, the Adventures of Sophie Mouse chapter books are perfect for beginning readers.
A cute, short story that teaches kids about accepting new people in your life and how not to judge someone based on hearsay.
Sophie Mouse and her best friend Hattie Frog are excited about their first day of school, especially since there is a new student in class this year. However, when they find out that the new student, Owen, is a snake, the girls don't know what to think about it and don't know how to act around him. Quite possibly, though, Owen isn't nearly as scary as they may think he is.
This chapter book is clearly aimed at young girls, but it doesn't ready "girly" to me at all. It's really quite a charming little story, and I know I'll be recommending to my friends with children.
Recommended!