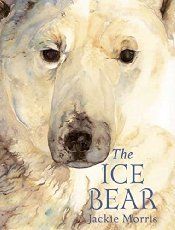 The Ice Bear
by
Jackie Morris
Published by
Frances Lincoln Children's Books
, July 29, 2014
40 Pages • ISBN 978-1847805485 • Hardcover

Schuler Books
•
Barnes & Noble
•
Amazon
Goodreads
•
LibraryThing
To purchase any of the books in this post and help me buy more books, click the links above!
Book description:
Back in a time when people and animals lived together in harmony, a bear-child is stolen away from his mother. A hunter and his wife find the child and, wrapping him in sealskin, they sing him songs of the ice, the wind and the great white bears. One day the child wanders off and a bear comes to take him back to his mother. But by now the hunter is on the trail, determined to kill the creature that has taken his child...

Set in the pristine polar regions of the Arctic, Jackie Morris's beautiful story reminds us that we are caretakers of these wild creatures and our actions directly affect their future.
A short but poignant story that reads more like an old folk tale (and for all I know, it could be based on one),
The Ice Bear
is gorgeously illustrated and beautifully told. A mother bear gives birth to twins, but a raven steals one away and gives it to a human family who are without children. When the child and his bear brother meet again, it is the choice of the child that will determine the course of all their lives. I really enjoyed this story and accompanying illustrations, and think this would be ideal for both children and adults alike.