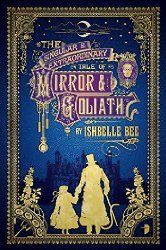 The Singular and Extraordinary Tale of Mirror and Goliath: From the Peculiar Adventures of John Lovehart, Esq., Volume I
by
Ishbelle Bee
Published by
Angry Robot Books
, June 2, 2015
224 Pages • ISBN 978-0857664426 • Paperback
I received an electronic ARC of this book from the publisher thru NetGalley for an honest review.

Schuler Books
•
Barnes & Noble
•
Amazon
Goodreads
•
LibraryThing
To purchase any of the books in this post and help me buy more books, click the links above!
Book description:
1888. A little girl called Mirror and her shape-shifting guardian Goliath Honeyflower are washed up on the shores of Victorian England. Something has been wrong with Mirror since the day her grandfather locked her inside a mysterious clock that was painted all over with ladybirds. Mirror does not know what she is, but she knows she is no longer human.

John Loveheart, meanwhile, was not born wicked. But after the sinister death of his parents, he was taken by Mr. Fingers, the demon lord of the underworld. Some say he is mad. John would be inclined to agree.

Now Mr Fingers is determined to find the little girl called Mirror, whose flesh he intends to eat, and whose soul is the key to his eternal reign. And John Loveheart has been called by his otherworldly father to help him track Mirror down...
So... I don't even know where to start with Ishbelle Bee's
The Singular and Extraordinary Tale of Mirror and Goliath
. This will probably be ranking as one of my favorite books of the year, but I can't tell you a think about it! I'm not entirely clear I understand what I read or understand what was going on, but I loved every minute of it. The story follows the strange events surrounding Mirror (who may or may not be dead) and her shape-changing protector, Goliath Honey-Flower, who are trying to figure out what it wrong with Mirror, since she has been altered since her grandfather locked her in a strange, coffin-shaped clock. Then there is John Loveheart, who may or may not be wicked, and his "adopted" father, Mr. Fingers, the lord of the underworld. Throw in the personification of Death, time travel, an Egyptian princess, eccentric serial killers, quirky Victorian sensibilities, and a secret group trying to live forever, and you've got yourself a rather unusual cast and series of plot points.
The writing is beautiful (tho slightly choppy in some spots), and the imagery is quite vivid (plus, I
love
when Bee plays with type size and spacing in certain scenes to give a sense of the action going on using the typographic structure of the sentence - nice touch!). Ishbelle Bee doesn't rely heavily of overt description on how the magic works in her world; we, as the reader, just accept that's how it is and move on with the story. These elements reminded me of Susanna Clarke or even Neil Gaiman; the world they create is strange, dangerous, and beautiful, but we don't need to slapped over the head with heavy descriptions, it just is what it is, and Bee conjures that same sense of suspended reality in her book, and I'm anxious for more from her.
And let us take a moment to appreciate the cover to this book, shall we, because it is
gorgeous
.