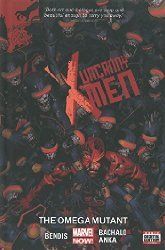 Uncanny X-Men, Vol 5: The Omega Mutant
by
Brian Michael Bendis
, illustrated by
Chris Bachalo
&
Kris Anka
Published by
Marvel
, April 14, 2015
136 Pages • ISBN 978-0785154907 • Hardcover

Schuler Books
•
Barnes & Noble
•
Amazon
Goodreads
•
LibraryThing
To purchase any of the books in this post and help me buy more books, click the links above!
Book description:
Original Sin tie-in! The greatest secret of the late Professor Charles Xavier has been revealed! Against such overwhelming power, will the X-Men succeed in holding the line, or will Xavier's final "gift" to his children be their undoing? Cyclops must guide his X-Men through the storm that is unleashed, but is the greatest threat to his safety lurking within the dark recesses of his own mind? With one simple act, Cyclops destroyed the life he knew. Now he must remain constantly vigilant in case of attack, while dealing with strangely and frustratingly altered powers. If there's anyone who would bend over backwards to reteach himself how to use them, it's Cyclops...but will he regain control of his own personal destiny in time to save his team and his students from Xavier's terrible secret?

COLLECTING: Uncanny X-Men 26-31
Oh, look! Another X-Men story that involves time travel. How original...
This started off as a really strong read with the problem of how to deal with the Omega Mutant and how Cyclops decides he wants to handle the situation. However, from there the book more or less falls apart. Bendis clearly has no idea anymore how to deal with the larger-than-life situations he puts his characters in, so jumps yet again to his deus ex machina, time travel, to fix the problem and it's not even handled all that well here.
Bachalo's art is not very consistent in the issues he handles, and I hate to say it, but I'm not impressed with Anka's art at all on the issue's he handles. Overall, not one of the better books in a series that has definitely had its ups and downs.