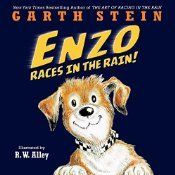 Enzo Races in the Rain!
by
Garth Stein
, illustrated by
R. W. Alley
Published by
HarperCollins
, October 7, 2014
40 Pages • ISBN 978-0062295330 • Hardcover

Schuler Books
•
Barnes & Noble
•
Amazon
Goodreads
•
LibraryThing
To purchase any of the books in this post and help me buy more books, click the links above!
Book description:
New York Times bestseller Garth Stein's picture book debut about the lovable dog Enzo from The Art of Racing in the Rain is a heartwarming tale of coming home. Fans of Bad Dog, Marley! by John Grogan and Charlie the Ranch Dog by Ree Drummond will delight in Enzo's unforgettable personality and funny antics.

Enzo the puppy's action-packed adventure begins when he makes the journey from the farm to the city (bark twice for faster!), discovers just how big the world is, and finds the family that was meant to be his.

Life on the farm is pretty quiet—except when he races the cars that come down the barn road. Because Enzo is fast. He knows he's different from other dogs. But people never understand Enzo when he barks, and it drives him crazy! Then one day Enzo meets a little girl named Zoë and her father, Denny, and everything changes. R. W. Alley's fantastic illustrations bring the beloved Enzo to life as he learns to adapt to life in his new home and discovers just what it means to become a family.
A cute addition to the
Art of Racing in the Rain
family of books from Garth Stein,
Enzo Races in the Rain!
tells the story of Enzo's coming into Denny's life, but told for a much younger audience, this time as a picture book.
The Art of the Racing in the Rain
is one of my favorite books, and with this picture book, Stein introduces Enzo to an entirely new audience, yet he stills keeps Enzo's basic character and sense of self intact. Here, Enzo discovers his love of speed (a theme that continues throughout the original book), and learns just how big the world can be, and how important it is to find and keep your family.
The art in the book is adorable, and while the story is short (as are any picture book), it moves fast and really shows how big and scary a change in your life can be (such as Enzo going from the country to the city), but that if you've got your family with you, things will generally work out in the end.
There are going to be following volumes in the picture book series (one for Christmas this year, and another for Halloween next year), and I'd like to think that possibly Stein will continue Enzo's story for years to come thru these editions for younger kids.
Highly recommended for anybody with children, anybody that loves dogs, and fans of
The Art of Racing in the Rain
.