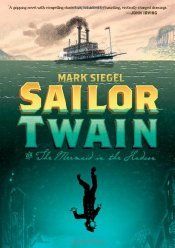 Sailor Twain: Or: The Mermaid in the Hudson
by Mark Siegel
Published by
First Second
, October 2, 2012
400 Pages • ISBN 978-1596436367 • Hardcover

Schuler Books
•
Barnes & Noble
•
Amazon
Goodreads
•
LibraryThing
To purchase any of the books in this post and help me buy more books, click the links above!
Book description:
One hundred years ago. On the foggy Hudson River, a riverboat captain rescues an injured mermaid from the waters of the busiest port in the United States. A wildly popular--and notoriously reclusive--author makes a public debut. A French nobleman seeks a remedy for a curse. As three lives twine together and race to an unexpected collision, the mystery of the Mermaid of the Hudson deepens.

A mysterious and beguiling love story with elements of Poe, Twain, Hemingway, and Greek mythology, drawn in moody black-and-white charcoal, Sailor Twain is a study in romance, atmosphere, and suspense.
I feel like I should have enjoyed this way more than I did. Part mystery, part fantasy, part myth, part horror, part love story,
Sailor Twain
is the tale of a riverboat captain, a reclusive author, and a nobleman, all whose paths eventually cross due to the discovery of a mermaid in the Hudson River. I'd like to say that I took something more away from the book, but really, that was it. The story didn't hold my attention like it should, and while the charcoal illustrations fit the mood of the setting well, I had a hard time with the fact that so many characters looked so stylistically different. Perhaps that was the whole point, but I didn't catch any meaning to it, other than to
really
make sure that each of the characters were distinguishable.
There were some shining moments in the book, however: the way the captain's quarters transformed from the influence of the mermaid, for example, or the mermaid's realm. Thinking back on it, the only times I was ever really impressed with the book was with the visuals that dealt with the mermaid.
While I'm a little ambivalent about this particular volume, I think I would pick up something by Mark Siegel again. Like I said, I feel that I should have enjoyed this way more than I did, so maybe it simply wasn't the right time for me to read this.