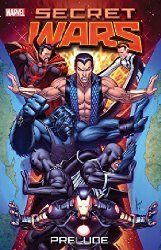 Secret Wars Prelude
by Jonathan Hickman, Jim Shooter, Brian Michael Bendis, illustrated by Steve Epting, Mike Zeck, Ryan Stegman, Sara Pichelli, & Esad Ribic
Published by
Marvel
, May 26, 2015
240 Pages • ISBN 978-0785193999 • Paperback
Schuler Books
•
Barnes & Noble
•
Amazon
Goodreads
•
LibraryThing
To purchase any of the books in this post and help me buy more books, click the links above!
Book description:
Follow the path to 2015's event to end all events, Secret Wars -an epic more than 30 years in the making! From the senses-staggering climax of 1984's original Secret Wars saga, to the origin of Miles Morales, the new Ultimate Spider-Man, it's all been leading up to this. And Marvel's master planner, Jonathan Hickman, has long been planting seeds for the story only he could write. The Ultimates face an enemy more powerful than the gods - and Reed Richards is its leader! Doctor Doom faces threats from a universe he created! And the Illuminati reunite to face the reality-destroying threat of the Incursions! War is coming -be ready!

COLLECTING: New Avengers (2013) 1-3, Secret Wars (1984) 10-12, Fantastic Four 611, Ultimate Comics Spider -Man (2011) 1, Ultimate Comics Ultimates 4
I was a little disappointed in this Prelude volume. Usually the prelude volumes offer both full issues and important snippets from various other issues to bring readers up to speed and be able to jump into a large crossover event. Collecting
New Avengers
1-3,
Secret Wars
(1984) 10-12,
Fantastic Four
611,
Ultimate Comics Spider-Man
1,
Ultimate Comics Ultimates
4, I didn't really see how a lot of these issues had anything to do with the upcoming
Secret Wars
storyline (such as the
Fantastic Four
and
Ultimate Comics Spider-Man
issues); maybe it will become more clear as the story unfolds, but to me, that doesn't really make this volume all that helpful. Unless you really,
really
like to buy all the graphic novels, there's nothing here that is necessarily all that important to leading up to
Secret Wars
.