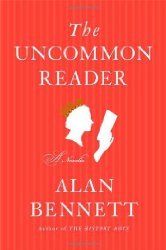 The Uncommon Reader: A Novella
by Alan Bennett
Published by
Farrar, Strauss and Giroux
, September 18, 2007
120 Pages • ISBN 978-0374280963 • Hardcover

Schuler Books
•
Barnes & Noble
•
Amazon
Goodreads
•
LibraryThing
To purchase any of the books in this post and help me buy more books, click the links above!
Book description:
From one of England's most celebrated writers, the author of the award-winning The History Boys, a funny and superbly observed novella about the Queen of England and the subversive power of reading.

When her corgis stray into a mobile library parked near Buckingham Palace, the Queen feels duty-bound to borrow a book. Discovering the joy of reading widely (from J. R. Ackerley, Jean Genet, and Ivy Compton-Burnett to the classics) and intelligently, she finds that her view of the world changes dramatically. Abetted in her newfound obsession by Norman, a young man from the royal kitchens, the Queen comes to question the prescribed order of the world and loses patience with the routines of her role as monarch. Her new passion for reading initially alarms the palace staff and soon leads to surprising and very funny consequences for the country at large.
A surprisingly enjoyable little book, Alan Bennett's
The Uncommon Reader
is fundamentally a book about books and the power that they can have over our lives.
When the Queen's dogs accidentally wander by way of a mobile library near Buckingham Palace, she feels obligated to check out a book. From there, she is enthralled by books and soon begins to become obsessed with reading, feeling that she has discovered something important to her that she has missed out on over the years. We get to see her journey as she grows as a reader to a most surprising conclusion to the story.
This is the third time I've read this story, and I loved it just as much as I did the first. Bennett has constructed a great little story, and the ending is perfect. I love his portrayal of the Queen, and both how she deals with her subjects and how she is handled by those around her in her household and government positions. If you've never read this before, I'd highly recommend it. It is a very quick read and worth it. You won't be disappointed.