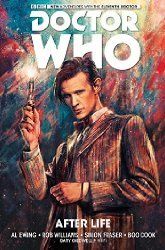 Doctor Who: The Eleventh Doctor, Vol 1: After Life
by Al Ewing & Rob Williams, illustrated by Simon Fraser & Gary Caldwell
Published by
Titan Comics
, March 31, 2015
128 Pages • ISBN 978-1782761747 • Hardcover

Schuler Books
•
Barnes & Noble
•
Amazon
Goodreads
•
LibraryThing
To purchase any of the books in this post and help me buy more books, click the links above!
Book description:
With a force of personality capable of bending time itself and all the energy of a star's exploding heart, the Doctor blasts into the hollow, tragic life of a woman with so much to offer – and gives her the chance to scream "Geronimo!" at the thrills, colors and terrors of an infinite universe!

Masterful writers Al Ewing (Loki: Agent of Asgard, Mighty Avengers) and Rob Williams (Ordinary, The Royals: Masters of War) team with astounding artists Simon Fraser (Nikolai Dante) and Boo Cook (Elephantmen) to blast the Eleventh Doctor – as played by Matt Smith – into a tantalizing new era of time-twisting comics stories!

Collects Doctor Who: The Eleventh Doctor #1-5.
Unfortunately, I did not enjoy this volume nearly as much as I did the
first volume for Ten
. This one isn't necessarily bad, it just didn't seem to hit its stride for me. Eleven is written well, and I could easily hear his voice in my head the entire time, but he looked more or less like a caricature of himself thru most of volume. Including an underlying mystery that was present thru the first five issues was a nice touch and a nice nod to the television series, however, it felt way too rushed (although that may have simply been a result of reading all five issues in one sitting, without having the month in between the issues when they were being originally released).
While I enjoyed Ten's volume so much more, this was still a fun read, and I'll definitely be picking up the subsequent volumes and follow along with Eleven on his future adventures.