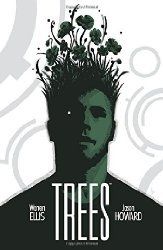 Trees, Vol 1
by
Warren Ellis
, illustrated by
Jason Howard
Published by
Image Comics
, February 24, 2015
160 Pages • ISBN 978-1632152701 • Paperback

Schuler Books
•
Barnes & Noble
•
Amazon
Goodreads
•
LibraryThing
To purchase any of the books in this post and help me buy more books, click the links above!
Book description:
Ten years after they landed. All over the world. And they did nothing, standing on the surface of the Earth like trees, exerting their silent pressure on the world, as if there were no-one here and nothing under foot. Ten years since we learned that there is intelligent life in the universe, but that they did not recognize us as intelligent or alive. Trees, a new science fiction graphic novel by Warren Ellis (Transmetropolitan, Red) and Jason Howard (Super Dinosaur, Astounding Wolf-Man) looks at a near-future world where life goes on in the shadows of the Trees: in China, where a young painter arrives in the "special cultural zone" of a city under a Tree; in Italy, where a young woman under the menacing protection of a fascist gang meets an old man who wants to teach her terrible skills; and in Svalbard, where a research team is discovering, by accident, that the Trees may not be dormant after all, and the awful threat they truly represent.
I really don't understand a single thing in this volume, as we, the reader, are dropped into what feels like the middle of a story that is already currently being told, but part of me likes that. Ten years ago, an alien race landed on Earth. The ships (or whatever they are), are huge and resemble trees that reach into the heavens. These Trees have been here so long now that they have become just a part of the landscape in many ways, and in others, they are a source of great intrigue or discontent. No one knows a thing about them. And by the end of this first volume, that doesn't really change.
While on the surface this should be an alien invasion story, it really is more about the people of Earth and how their lives have changed because of the Trees, specifically the three main protagonists: a young Chinese boy who is trying to find his way in the world; a young Italian woman who finds herself at a crossroads with the local mafia; and a scientist who desperately wants the ten years he's been studying the Trees to actually mean something. These three stories never intertwine, but they are all equally fascinating. Ellis truly gets to the heart of each character, and while that may not always be a good heart, it's there.
Jason Howard's art fits the story well; having not experienced his art before, I don't have a frame of reference for what his art can be like on other titles, but here it works, and works well. Between the engaging story and Howard's art, this is a title that I'll definitely be picking up in the future.