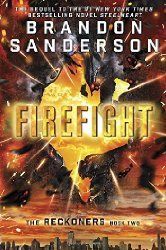 Firefight
by
Brandon Sanderson
Published by
Delacorte Press
, January 6, 2015
432 Pages • ISBN 978-0385743587 • Hardcover

Schuler Books
•
Barnes & Noble
•
Amazon
Goodreads
•
LibraryThing
To purchase any of the books in this post and help me buy more books, click the links above!
Book description:
Brandon Sanderson, the #1 New York Times bestselling author of Words of Radiance, coauthor of Robert Jordan's The Wheel of Time series, and creator of the internationally bestselling Mistborn trilogy, presents the second book in the Reckoners series: Firefight, the sequel to the #1 bestseller Steelheart.

Newcago is free.

They told David it was impossible, that even the Reckoners had never killed a High Epic. Yet Steelheart--invincible, immortal, unconquerable--is dead. And he died by David's hand.

Eliminating Steelheart was supposed to make life simpler. Instead, it only made David realize he has questions. Big ones. And no one in Newcago can give him answers.

Babylon Restored, the city formerly known as the borough of Manhattan, has possibilities, though. Ruled by the mysterious High Epic Regalia, Babylon Restored is flooded and miserable, but David is sure it's the path that will lead him to what he needs to find. Entering a city oppressed by a High Epic despot is risky, but David's willing to take the gamble. Because killing Steelheart left a hole in David's heart. A hole where his thirst for vengeance once lived. Somehow, he filled that hole with another Epic--Firefight. And now he will go on a quest darker and even more dangerous than the fight against Steelheart to find her, and to get his answers.
The followup to Brandon Sanderson's
Steelheart
finds the Reckoners now in charge of the city of Nercago, but David feels they need broaden their influence, so they set their sets for Babylon Restored, what was once Manhattan. There they take on the High Epic Regalia and her hang of thugs, both Epic and human. David searches for answers to questions that the fall of Steelheart left him, while at the same time trying to figure out what Reglia's larger plan is for the city.
As much as I enjoyed
Steelheart
, I enjoyed
Firefight
even more. The twists and turns of the story were great, and as more answers to what the Epics actually are are answered, the more I want to know about the final outcome of the story. Will definitely be reading
Calamity
when it is released.