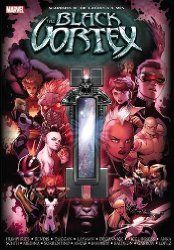 Guardians of the Galaxy & X-Men: Black Vortex
by Sam Humphries, illustrated by Ed McGuinness, Valerio Schitti, Paco Medina, Mahmud Asrar, Mike Mayhew, David Baldeón, Javier Garron, & David López
Published by
Marvel
, July 14, 2015
312 Pages • ISBN 978-0785197706 • Hardcover

Schuler Books
•
Barnes & Noble
•
Amazon
Goodreads
•
LibraryThing
To purchase any of the books in this post and help me buy more books, click the links above!
Book description:
The Black Vortex, an ancient artifact imbued with immeasurable power, is now in the hands of Mr. Knife! With billions of lives potentially at stake, Peter Quill, the Legendary Star-Lord, is going to have to dust off his thieving gloves. But with Knife's Slaughter Squad protecting him, Peter's probably going to need some help...

COLLECTING: Guardians of the Galaxy & X-Men: The Black Vortex Alpha 1, Guardians of the Galaxy 24-25, Legendary Star-Lord 9-11, All-New X-Men 38-39, Guardians Team-Up 2, Nova 28, Cyclops 12, Captain Marvel 14, Guardians of the Galaxy & X-Men: The Black Vortex Omega 1
The X-Men (The All-New Teenage Team) and the Guardians of the Galaxy are in search of the Black Vortex, an ancient, cosmic artifact that seems to bestow unlimited power to those that gaze into and submit to it. With Mr. Knife's henchmen closing in on them, the X-Men and Guardians must decide whether they need to submit to the Vortex, and when they do, at what cost?
Spoilers!
This story really had a lot of promise, but somewhere along the line it seems to have lost its way. Events that should have had far more ramifications were more or less swept under the rug, and then the final few pages... After pining for Colossus for the better part of three decades, Kitty sure did fall for Star-Lord quickly. To be honest, even with the flaws aside, this whole story would have felt like it meant something if not for those last couple of pages; as a result, it just felt like the entire thing was written to set up Star-Lord proposing to Kitty. Lame.